Les 3 Vallées The worlds largest ski area
An uncontested and unparalleled international reputation!
Both vertically and horizontally, the expanse of ski area is a dream come true for even the most insatiable skiers. 600 kilometres over a network of more than 1,500 hectares of ski runs make up the ski area. That means you could fit the five largest ski areas in the United States into Les 3 Vallées ski area alone!
With 50% of green and blue runs and the other half black and red, almost half the runs are aimed at beginners and intermediates, with the other half dedicated to more experienced skiers! it's a simply perfect balance of accessibility and sports challenge.
Thanks to its natural characteristics and with 85% of the ski area above 1800 metres together with regular top-ups from artificial snow (over 2,700 snowmakers covering 54% of the ski area), Les 3 Vallées is a truly snowsure resort.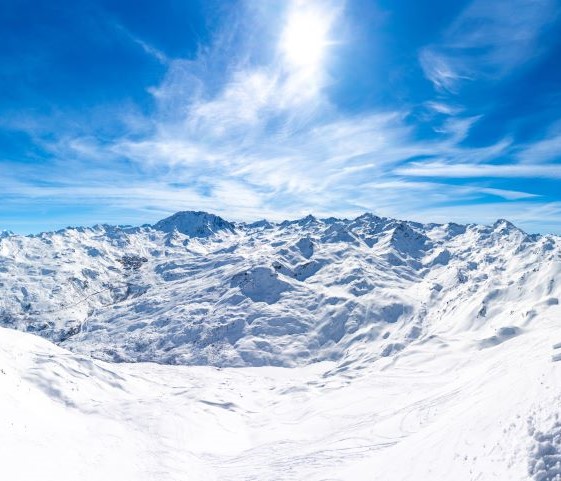 Guaranteed Snow!
Open for 5 months (a total of 150 days): skiing and snow guaranteed
All runs are located between altitudes of 1,100 metres and 3,230 metres (inter-valley connections are also located on mountain ridges above 2,000 metres, for optimum snow cover and ease of passage).
85% of the ski area is above 1,800 metres.
And 25 summits are accessible via the ski lifts, including 10 above 2,500 metres!
And the ski area is as just as well-designed for beginners a as it is for experienced skiers. It is possible to ski from one side of the 3 Vallées Ski Area to the other without anything more challenging than a blue run.
The 158 ski lifts in Les 3 Valées service 316 ski runs which are categorised as follows
Among the ski lifts some are simply unmissable and an essential part of any trip to Les 3 Vallées
The Saulire cable car in Courchevel,
The Caron cable car in Val Thorens,
La Masse gondola lift in Les Menuires
The Saulire Express gondola lift in Méribel
The Mont Vallon gondola lift in Méribel-Mottaret
Duration and Prices for Les 3 Vallées ski area.
Lift Pass"
Public Rates Les 3 Vallées
EGSW Passholder Les 3 Vallées Rates
Public Rate  Val Thorens
EGSW Passholder Val Thorens Rates
6-day Lift Pass
375.00 €
370.00 €
320.00 €
317.00 €

6-day Lift Pass 

(Seniors)

337.50 €
334.50 €
288.00 €
285.00 €
7-day Lift Pass
433.00 €
430.00 €
367.00 €
364.00 €
8-day Lift Pass
491.00 €
488.00 €
414.00 €
411.00 €
Lift pass includes unlimited access to the entire Les 3 Vallées area: VAL THORENS, LES MENUIRES, MÉRIBEL and COURCHEVEL From a 6-day lift pass, the half-day before the start of your lift pass is free (ie you can ski for free on your day of arrival!). Read the full terms and conditions on Les 3 Vallées website.

Piste Map