Val Thorens, at 2300m is Europe's highest village, located in a huge ski bowl at the head of the world's largest ski area, Les 3 Vallées.
Val Thorens is a four time winner of 'worlds best ski resort ' and in 2022 was the winner, for the 10th time, 'best ski resort in France.
Val Thorens is a perfect location for European Gay Ski Week.
.

THE HIGHEST RESORT IN EUROPE
Val Thorens, at an altitude of 2,300 metres, is the highest ski resort in Europe and offers breath-taking, high mountains views.
In this outstanding 3 Vallées resort in the Belleville valley, the snow stays on the ground from November to May. This means you can be confident in the quality of the snow throughout the extended winter season.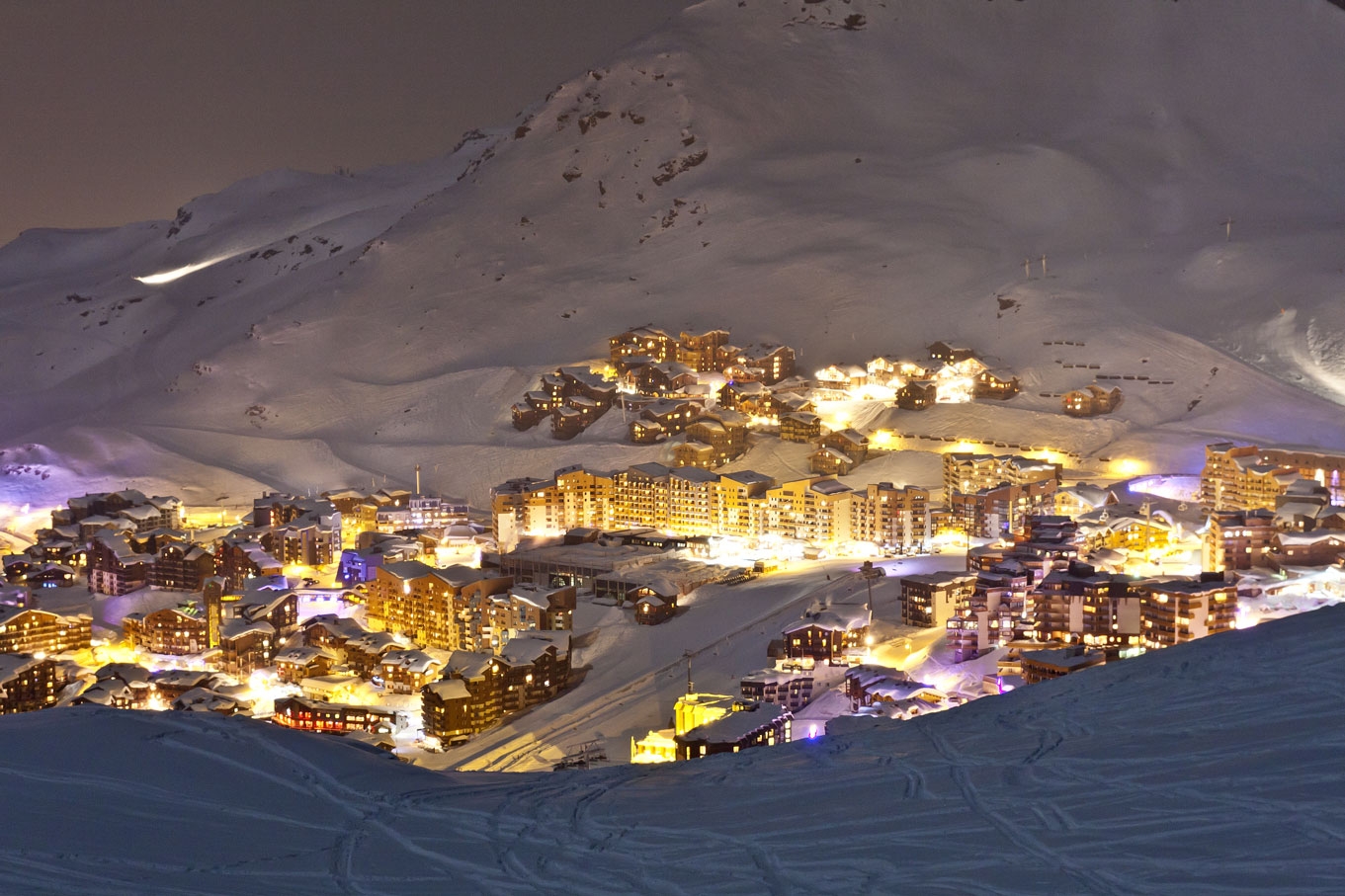 A RESORT DESIGNED FOR PEDESTRIANS
The resort is made up of six areas: Soleil, Grande Rue, Balcons, Lombarde, Slalom and Plein Sud.
Accommodation ranges from fabulous 5 star luxury boutique hotels, Chalets and Apartments to compact ski in ski out Studios,  there is something for every budget.
Everything Close By
You can cross this semi-pedestrianised resort on foot in just twenty minutes, and can reach the centre from anywhere in the resort in ten minutes or less.
SHOPS, RESTAURANTS, BARS, ENTERTAINMENT...
Each of the six areas have their own supermarkets, shops and bars. For eating out whether you prefer a cosy mountain hut for a traditional Savoyard meal, a burger joint or a Michelin starred restaurant, Val Thornes can cater for your every need.
With the range of Bars, Restaurants Clubs and Performance Spaces available in Val Thorens,  European Gay Ski Week has all the facilities needed  to produce some spectacular and memorable Parties, Events and Cabaret.
Furthermore, Val Thorens embraces a range of additional activities beyond skiing. Visitors can enjoy ziplining, snowshoeing, tobogganing, ice driving, ice climbing, and many more. See our ACTIVITIES page for more details.
LE BOARD VAL THORENS - SPORTS CENTER
A first in the ski resort, Le Board has a fully equipped roof terrace which will be the home of the European Gay Ski Week Après Ski throughout our week in Val Thorens.
It is in the centre of Val Thorens, a maximum of 10 minutes walk from any residence within Val Thorens.
Le Board was opened in 2022 as part fo the 50th anniversary celebrations for Val Thorens. Not only will it be the home of our Aprés Ski but its brand new pool and sauna complex will host our pool party.
Inside The Board is a 13,795m² facility dedicated to Sports and Wellness. There is a Gym, a Pool, Squash Courts, Badminton and Basketball courts and a wellness and well-being area with 2 balneotherapy pools, 3 saunas, a hammam, a cold water well, a snow fountain, a herbal tea room, but also rest rooms and 10 treatment cabins!