A chalet Cocoon in Val Thorens is the alliance between the architectural tradition of the Alps and state-of-the-art equipment. 
Each Val Thorens chalet is made of wood and has a beautiful south-facing terrace in front of the spectacular alpine landscapes with a private Jacuzzi.
Each chalet in Val Thorens at Cocoon's is both a very practical place with even its local to dry the ski boots and a place where everything is thought for friendliness and comfort. 
A three valleys chalet is also a set of à la carte services such as delivery of bakery or meals at home, the reservation of a swimming lane or
relaxing massages. 
To offer the best of ski apartments in France to those you love, especially a Val Thorens apartment, the Cocoon chalets that can accommodate up to 12 people
Self-Catering Apartment
Capacity: 12 people
Approximately 156m²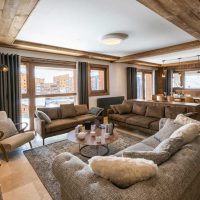 5 bathroom (2 showers 1 bath) and 5 toilets (one separate)
One living room with 1 sofa (not convertible) and private balcony
4 bedroom with 1 double bed and 1 bedroom with 2 twin beds.

Equipped open-plan kitchenette
and dining area
Occupancy

Price per person

1- Single Occupancy

€8,579

2 People Sharing

€4,289.50

3 People Sharing

€2,859.67

4 People Sharing

€2,144.75

5 People Sharing

€1,715.80

6 People Sharing

€1,429.83

7 People Sharing

€1,225.57

8 People Sharing

€1,072.37

9 People Sharing

€953.22

10 People Sharing

€857.90

Prices are per person and include 7-night self-catering accommodation. Prices don't include any other option.