TRANSFERS 
EGSW will be organising private bus transfers from Geneva airport directly to our host villages of Arc 1950 & 2000. 
Useful Transfer Info
Transfers are arranged when you make your booking, under the options section.
Ski Lifts is the next cheapest alternative to ours, deserving from Geneva, Grenoble & Chambéry

EGSW customers get a 5% discount using their service through this link below
CLICK HERE TO BOOK YOUR PRIVATE TRANSFER
N.B - Please read the important info below regarding EGSW transfers from Geneva airport.
Transfers from Geneva
Please ensure that you allow sufficient time to catch your transfer.
We recommend you allow no less than 45 – 60 minutes from your flights arrival time to the departure time of your coach. In the last couple of years there have been flight delays due to weather and security issues. As a result we have changed the way the transfers work with hourly departures from Geneva. To ensure that should there be delays everybody gets away as promptly as possible, we're reserving the right to allocate coach seats on a first come first serve basis.
*We're sorry but EGSW doesn't accept any responsibility for anyone missing their transfer coach. In the case of delays we ask you to be patient whilst we allocate you the next available transfer
FLYING
If you are travelling from outside France, we'd recommend touching down in Geneva as we'll be able to pick you up directly from the airport and bring you to the resort. Geneva Airport is extremely well connected from most UK and European cities and it's flights are the most competitively priced. 
TRAINS
The closest train station to Les Arcs is one found at Bourg St Maurice and it's located only 35 minutes by road to Arcs 2000(the highest point).
Eurostar services direct to the French Alps stop at Moûtiers, Aime-la-Plagne and Bourg-St-Maurice, making it easy to access Les Arcs. 'The Ski Train' will run from 21st of December 2018 up to the 6th April 2019. A timetable for these trains can be found here.
Remember to check at least 60 minutes before your departure in London St Pancras Int.
On your journey home, please arrive at the Bourg St Maurice station 90 minutes before your train is due to depart.
Check in will close 30 minutes before the train leaves
Upon arrival in Bourg St Maurice you take the funicular to Arc 1600 which takes only 7 minutes. Once at Arc 1600 there are free inter-resort shuttle buses linking Arc 1600, Arc 1800, Arc 1950 and Arc 2000.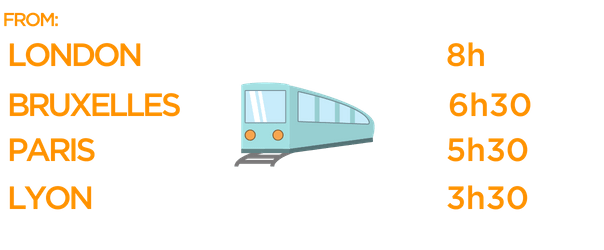 DRIVING
Driving is always the simplest method of getting to the Alps and of course, offers the most freedom during your holiday.
Here are a few points to consider when driving to the resort:
France's 'autoroutes' are not too busy towards the end of March.

The weather in March is normally fine for driving and the road up to the resort passable.

You MUST bring snow chains or tires in preparation for mountain conditions.

ViaMichelin is one of the few good websites for planning fuel consumption and toll budgeting.
Here are a few tips to consider when driving from the UK:
Fares on ferries cost approximately 60€ each way for a car or minibus for up to 9 passengers.

It's an 8 hour drive from Calais to Les Arcs on the autoroutes.

The tolls for one leg will cost approximately 60€.

Avoiding the toll roads results in a journey time of 12hrs.

If you take the early crossing and get to Calais by 7am you should arrive in Les Arcs at around 8pm.